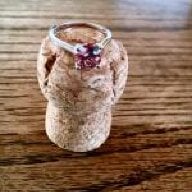 Joined

Apr 9, 2008
Messages

412
It's funny as I've been engaged for a little over a month, yet I don't feel like a 'bride'-in-waiting... probably becasuse we still don't have a ring...
We have a beautiful center stone that we got on 12/21/12
woo for me finally making up my mind on the center stone... But I'm seriously thinking that the boy is having a hard time with a setting because he knows that I'm just a little picky when it come to jewelry. I'm hoping that we can get out this weekend sometime to maybe do some setting shopping... we don't have internet at home, and my boy doesn't do computers/internet (he knows how, he just doesn't have one) so purchasing online for a setting could be hard? or not? I'm not sure, but as I keep changing my mind (though I recently fell in love with LizC's Buttercup setting) I think that I'm going to have to see the setting in person to actually make up my mind...
Anywho, I've been thinking about dates for our Reception, and my 1st-4th choices:
8/31/13 (2nd)
9/7/13 (4th)
11/9/13 (3rd)
12/31/13 (1st)
any suggestions...