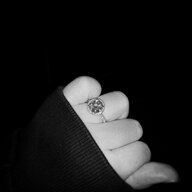 Joined

Jul 29, 2019
Messages

2
I posted on RockyTalky about my experience with Victor on getting a custom cutting diamond and the whole process was more convenient then I thought, and the result was spectacular. You can read it about it here
https://www.pricescope.com/community/threads/victor-canera-custom-cutting-diamond-experience.254619/
So here we go with my experience on the Emilya Halo from Victor.
After Victor received the graded stone back from AGS, I told him that I will like him to set the stone for me into an Emilya Halo. I send him an e-mail on the detail of the setting that I wanted and asked him questions on whether some ideas will look good or not and he answered all my questions honestly and clearly. I believed in Victor because he had done Emilya Halo so many times in different sizes, types and options that I know what he suggested or said will turn out great. The ring setting was being hand forged by Victor, it's an Emilya Halo in Platinum, Full Cut Melee, U-Cut Pave on Band, Stems and Donut, Three Row Pave Shank, and two Surprise Stones inside the Shank. He gave me a quote and since I was having the stone custom cut from him, I got a 10% discount on my ring and it was being made first and it only took him two weeks to finish the ring. He sent me a picture of the finished ring and let me tell you it looked gorgeous. The ring was going to be wrapped and shipped to me the next day via FedEx Overnight Shipping.
I was still a little nervous about how the ring will look when I received it, so I anxiously waited for the ring to arrive. The ring came in a custom box from Victor and it is securely packed and wrapped. Inside the box, there are AGS certificates, H&A scope loupe, ring box, suggested retail replacement value document, and of course the beautiful hand-forged Emilya Halo by Victor. When I saw the ring, I was just stunned by how bright and sparkly it was. The color of the stone is incredible, and you can't tell that it is an I color stone. The Halo melees are so perfectly sized and placed that it makes the center stone look larger. It just astonishing how Victor is able to set those small melees in so flawlessly around the ring. I purposed to my wife with the help of our newborn baby "haha" and she was so shocked and astonished on how beautiful the ring was.
Victor was really nice and easy to work and talk to, he explained everything to me when I got an issue or question. We communicate mostly through email and I will definitely recommend those who want to get a custom cutting diamond to look at Victor's "Canera Ideal Hearts". It such an easy and simple process to go through.
Here are some of the pictures that my wife took of the ring.