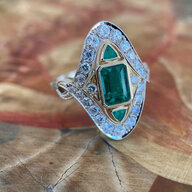 Joined

Aug 4, 2020
Messages

186
I am shopping for a small emerald to recreate a piece of my grandmothers jewelry. Hers was a emerald necklace with diamonds around it but the emerald cracked. (I have sent the original emerald to a lapidary in Boston to see if they can possibly cut two side stones). I am choosing a new emerald and then will have the necklace made into a ring using the gold and small diamonds.
I am starting with my local jeweler because I know the GG and the bench jeweler personally. They got in 3 stones for me to look at. None are GIA certified but which ever one I pick will be sent to GIA before it is set. Do you think that's an OK plan?
I've seen 3 so far. The first one was a marquis (same size and shape as the broken one) that I didn't even take a picture of because it had tons of visible black specs.
The second and thirds ones were an emerald cut But almost a true square. They were both right at my budget of $6,000. One was a deep green and one was a bright green - both beautiful and hardly any visible inclusions at all. I think anyone would be lucky to have either but I asked them to bring in a few more for me that was less square and more rectangle. I want a more elongated stone, even if they can't find a marquis like the original emerald.
enjoy the eye candy and please share any feedback on the emerald shopping process with this newbie!!