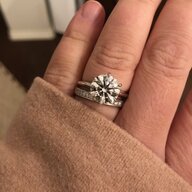 Joined

Sep 28, 2020
Messages

22
Jumping back on here for some advice, this time for a friend! Also, THANK YOU so much to prior helpers with my
WF
WCA upgrade, still in total love with the stone!
Friend loves Emerald cut diamond engagement rings. Helping her (soon to be) fiance pick it out and want to make sure she absolutely loves it!
Open to ANY and ALL tips/tricks for this cut to get started:
- Is there such a thing as a "premier" cut vendor like
White Flash
etc. for Emerald cut diamonds? I know for rounds the cut is HUGE in terms of performance but not sure with this shape.
- Are there any dimensions to be super mindful of with an Emerald/step cut stone?
- Any suggestions for top notch vendors or pretty much all vendors (wholesalers,
blue nile
etc.) similar in quality for emeralds?
We are going to look for an SI1 or better stone as we know inclusions are more obvious with step cuts but that is all I have so far!
Appreciate help
.