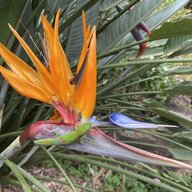 Joined

Aug 23, 2020
Messages

547
I wanted to post pictures of my lab diamond Christmas present! I wanted an emerald cut set east-west in a sleek, modern setting for an everyday RHR and love this ring!

I searched Rare Carat for a few months looking for a stone that would look colorless to my eye with an excellent cut and high clarity, while staying in budget.

This stone is a 1.7ct H VVS2 with an "ideal" cut- although it seems that with fancy cuts and esp step cuts it's not quite the same as shopping for MRBs. It was offered by With Clarity, where I had previously purchased my round halo ring. I chose the platinum setting and was able to modify the prongs to be claw style with no extra charge. Customer service was very helpful and there's the option of designing a totally custom setting and CADs provided, but I was happy with just the prong modification to the classic setting.

It's so hard to capture but it's a rainbow facet sparkle show! And very comfortable to wear, I've been able to enjoy wearing it at work whereas some larger/higher set rings would not be practical.

I took some pictures on my run this morning, enjoy! Please ignore the dry, dry hands- so much sanitizer lately!