Joined

Oct 2, 2011
Messages

18
Hi everybody,
Shopping for my first (and last) EG ring. Read a lot before I went out hunting and I think the information overload is crippling me but also has really helped clear up why one looks better than the other despite having the same grade. Now that I have more than 4Cs I feel that I have a bigger tool chest and a little more bargaining clout when I pull out my
idealscope
and camera.
I live in Los Angeles so have focused my diamond shopping in the Jewelry district and in the Asian jewelry district in Chinatown.
This is the first diamond I am interested in: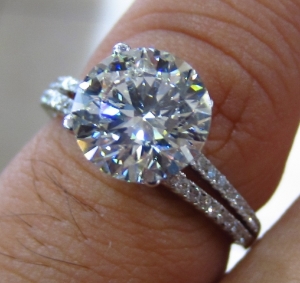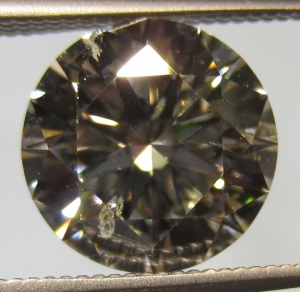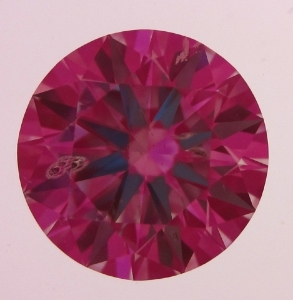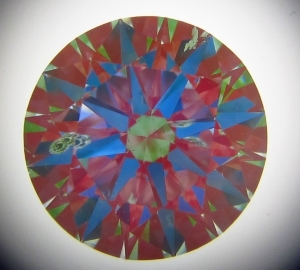 I really love this diamond, clean table, eye clean, looks white when set, more G-H (despite EGL F) face up with tweezer over white background. The cloud is hard to see with the naked eye because its under the facets and as seen with the IS and ASET it reflect light back up so doesn't really stand out. The price is 15k + tax with an buyback/upgrade option. I think because of it's proportions, AGA 1 (sorry don't have the full measurements now but did use HCA without girdle compensation). The reason I have trepidation is this next diamond.
This is number 2/1 on my list: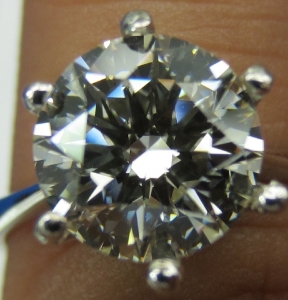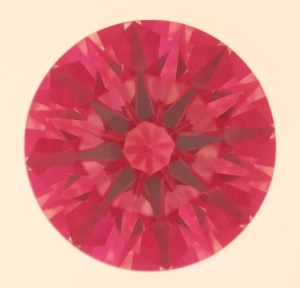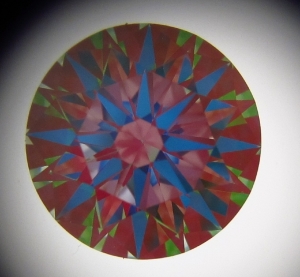 This diamond was pure white, not cloudy but white. The owner didn't turn on the halogen lights and I failed to see it under the sun but there was little fire. I didn't bring my ruler/protracter, but it appeared to be a BIC instead of an IC. The price is fair for what it is at 22k no tax, but what bothers me is the flash. It is blinging because of the size and I can't stress how brilliant it looked but its lack of fire really turns me off. I don't know if the Chinese buy diamonds that specifically look like this but all of his diamonds were VVS (that's a must, for the Chinese) and were brilliant but all lacked fire. After taxes and setting the price difference is 5k for a larger and clearer diamond but losing sparkle. This is where the trouble arises. Now do I abandon both diamonds and ask the Chinatown dealer for same size and quality but more fire, better cut (by the way still haven't checked if it's a moissanite, have to get that tool) or go ahead and buy the EGL (top diamond) and upgrade for clarity later. *Note: Chinatown does not offer buyback/upgrade.
Here is where the extra knowledge really helped: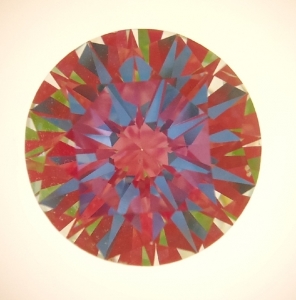 Jewelry district: GIA 2.01, F, VS2, VG-VG-F, going for 35.7k plus tax with buyback/UG option. As you can see, the VG symmetry really did show on the ASET and my opinion is that the VS2 on a GIA appears more like a VVS2 on EGL. There was only a slight wisp v feather seen at 2 o'clock. The problem for me was the price but also that face up it didn't really look better than the EGL above. Now I never trained at GIA but neither did my girlfriend. She is near-sighted (I'm farsighted) so maybe she will pick up something I don't see but the two diamonds really do compare pretty well. As long as you don't bring a loupe with you.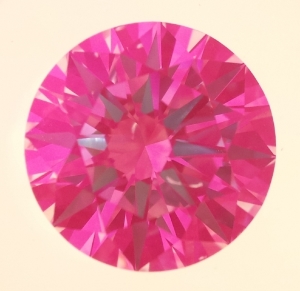 Jewelry district: GIA 2.02, G, SI1, X-X-X, going for 24k + tax with buyback/UG option. This is comparably graded to the EGL above but under the loupe I think this diamond is +1 in every category. The caveat is that face up on skin (picture not shown) so I saw the 9k difference as not a sensible buy other than under the loupe clarity.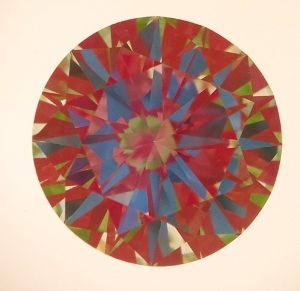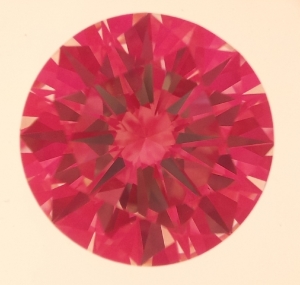 Chinatown: Ungraded, 2.08, G, VVS, 28k + tax, no buyback or upgrade. Not only was this lady rude she was dismissive. I think it is always a problem when your jeweler is wearing 3ct studs and shows off her 5ct pinky ring and bragging about how good her diamonds are. She didn't even want to show me the diamonds but when she did she tried to pass off this diamond as 28k quality and now I understand how my scopes really help out. When I brought it to her attention that this diamond lacks in fire because of its assymetric cut, she told me to go with GIA for 40k + if i want an ideal cut. They don't make ungraded ideal cuts. Nonetheless, her diamond was clear (VVS) very brilliant (seen by IS with ok light return) but had little fire (and this was under halogen). So reconfirms my suspicion that the Chinese seem more interested in BIC then IC.
So that's my early shopping; without these tools I probably would have just bought diamond number 1 and I'm still considering it, but I think I will take more pics and stew some more. Does anybody have an EGL 2, SI1-VS2, 50% back, Ideal cut diamond with good IS, ASET, AGA 1/HCA cut diamonds in the 15k range or am I looking for a needle in a haystack?
All comments are appreciated, thanks in advance.