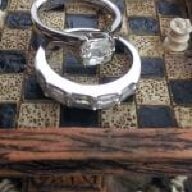 Joined

Sep 23, 2011
Messages

3,021
Hi Psers

About a year & half ago I decided I would like an upgraded ering and wedding band. We were married 15 yrs ago and I wore a plain two tone 5mm band with a small princess diamond everyday since our wedding. My engagement ring was a .42ct marquise with channel set baguettes which I wore on & off as a right hand ring. I still wear the ering in rotation with my other right hand rings. I'm very sentimental about it.
Over the last few years I've put on a few pounds and my wedding band was stuck on my finger. I tried every possible trick I could find and could not remove it
So on a Sunday morning DH & I went to the local fire department, rang the bell and asked them to cut my ring off

The guys were very cool about it & my finger was free to go bling shopping
So I knew I wanted an emerald cut diamond, stumbled upon PS & spent countless hours on here admiring everyones beautiful jewels.
I decided I wanted a blingy band and solitaire ering. I saved a couple hundred pictures of rings for inspiration. I became an Addict!!!
Back in June while window shopping I found a ec band & fell in love. I purchased it as my wedding band replacement and have been wearing it for a couple of months. One ring down, one to go

One Sunday morning I was flipping thru the EC's on
James Allen
when I came across a stone with a very interesting(to me anyway)cut. It was an almost square EC & since I was really in love with both asschers & ec's I decided to request an ASET.
The ASET was amazing so with the encouragement of PS pro's I purchased it. Gotta give a shout-out here to the staff at
James Allen
, they were wonderful to work with!
I entertained many setting styles and tried on lots of rings at local jewelers. I am now most likely banned for life at all of them
. Then I tried on the Sholdt semi-bezel! The angels started singing, my eyes teared up & DH agreed it was The One