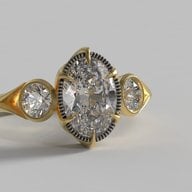 Joined

Oct 28, 2012
Messages

1,000
So I purchased a star Sapphire ring with single cut halo from a seller on ebay. Seller has 6893 feedback, 100% positive. Prior to purchase, I asked if the stone was natural or synthetic. She answered natural. So I purchased thinking her extensive experience as a seller of jewels is precise. However after admiring the photos several times, the milkyness of the Sapphire was bugging me so I asked the seller how she knew it was natural and she said she used a presidium tester.

I then told her that this tool cannot identify natural vs synthetic and I requested a refund. She has answered me a few times already saying that she has 10 years experience handling jewelry, that no one has ever questioned her and cancelled "on a whim" like I did... And she stands by her answer.

I even sent her the presidium tester website link and asked her to read it...

I really hope I get my refund!!

I'm a poor ebay buyer aren't I? I admitted to her my mistake of buying so soon, I apologized... Ugh...

Anyone gone through this before?