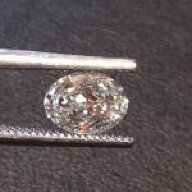 Joined

Jun 9, 2011
Messages

203
my BF and I have decided on the custom route. I want a setting similar to this:
http://www.brilliantearth.com/Luna-Ring-Platinum-BE1PB1-475/?show_setting_tab=true,,
, in platinum (love the weight of it), but with the diamond set as low as possible.
I have always kinda been in love with ovals. A little unique but still pretty classic looking. The two jewelers were are debating between showed us some stones today. At one place, I loved a 1.1 ct G (EGL though...) VS1 that was approx 8.5 x 6.5 (I think... At any rate, the ratio was 1.3), but it was just a liiiiitle too yellow for me to love it with a grey-white platinum bezel... At the other place, I liked best a 0.86 F (GIA) SI1 (eye clean) that was approx 7 x 5.5 (the ratio was 1.2
, and I would have pulled the trigger on it, except for the fact that I had just seen the larger stone at the other place, and wouldn't mind just a bit more finger coverage on my size 9 fingers! Both stones were "excellent" cut, and very sparkly with very subtle bowties that were not unpleasant. Both were in our price range, the latter was a few hundred dollars more.
We are having the first place bring in some higher-color, VS-SI1 clarity stones, and having the second place bring in some 1ish ct stones (the one they were going to bring in for us was already reserved for someone else, so we didn't get to see it today). We loved the work and atmosphere at the first place, but the warranty at the second is probably best in the industry (polishing, plating, repairs, all free forever, you don't even need your receipt. All stones, including center stone (which will be my only stone), are guaranteed not at the price you bought them for, but at the color, clarity, carat, and cut (though they only sell GIA excellent cut) forever if you lose them, and the upgrade policy is for the whole ring, not just the rock - really can't beat that)
What I was surprised by, was the fact that I liked the stone on my finger set east-west. I have long fingers, but they are also bigger. Set horizontally, they still looked long, but they looked slimmer. Set vertically, they looked long but not leaner.
Do you guys think this setting with an east-west oval of those proportions will look nice? I haven't seen anything on here like that - has anyone else?