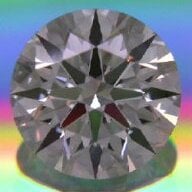 Joined

Feb 22, 2003
Messages

3,441
It started before Christmas. Hubby asked me what I wanted as a gift from him. Christmas gifts are easy for my husband. Jewelry and he''s home free. I''d been noticing the wide diamond cut and diamond studded bands women wear on the middle finger of their right hand. I told him that''s what I wanted. So he got me one, but it just wasn''t me. So, back it went. I had been admiring my daughter''s cute, little heart shaped necklace, but hearts aren''t me. So, I thought a classic yet elegant solitaire pendant/necklace instead. And so the search began.
Our trusted, local, independent jeweler of 10 years got a diamond solitaire pendant in her store in January. It was a large table, broad spread, shallow cut .75 carat uncerted diamond that she had set in a bar style bezel. Interesting and unique. I tried it on. Loved the look of the pendant, but not on me. My daughters tried to talk me into it off and on as I looked at other pendant styles and other shops. I looked at "my" unique pendant the last time in the jewelry store on Thursday before Valentine''s day. Even though the jeweler and my daughters coaxed me, I decided to wait until after Valentine''s day. Guess what?? A gentleman bought it as a Valentine''s gift for his sweetie.

So, I continued looking at different pendant styles, in different shops, and now on the net too. I wasn''t seeing anything I really liked, or the prices were outrageous. Non descript, generic I/J, SI/I diamonds. G/H at best in color.

So, finally, I decided I would just have the jeweler bring in some diamonds, pick one, go through some books to find a set, and have a pendant custom made. While waiting for some diamonds to come in, I was still surfing the net and stumbled onto Price Scope. I began reading and learning from the tutorial and started lurking the Forum.

I really thought the PS folk were a bunch of number crunchers obsessed with diamonds. The diamonds came in, I went to the jewelry store and picked diamond and a setting style to be custom made. On the way home, I changed my mind about the setting, called the jeweler to cancel that. We agreed to meet on Tuesday (closed Mondays) to pick another set.
That night, in a state of information overload confusion, I mustered the courage to register and post a query on Price Scope about the diamond I''d picked.

Boy, did I get hammered! Did I get a Sarin? How dare I buy an ungraded diamond? The price was too much! For that kind of money, I could get a "yah de yah de yah" diamond from a Price Scope vendor. Why did I want a really nice diamond for a pendant anyway? Etc. Etc. Etc. I responded that I wanted a nice diamond to pass on to my kids possibly to be set in a ring someday and I liked being able to see the diamonds in person. Then a post appeared. Lesley, from
White Flash
. Lesley said she admired my willingness to admit I needed to see the diamond in person. Finally, a person who understood something about my situation!
Monday night, before I was supposed to go back to the jeweler and pick a new set I read a post on a Price Scope thread that suddenly turned on the light in my head. Pieces of what seemed to be tons of information I''d crash learned began falling into place like a jigsaw puzzle coming together.

I called the jeweler the next day and told her I was going to pass on the diamond and pendant for now. I was buying time to let the information become more luminous and to learn more before buying anything. Then I started searching out local places where I could see what I was reading about in the tutorial and forum threads. Ideal cuts. I''d come home and search PS for comparable diamonds and saw that the locals couldn''t begin to compete with PS prices. Then I learned that Helzberg''s carries a Master Piece line of Hearts and Arrows diamonds. I just had to go see what all the hooplah was about. Oh, My Gosh! They literally glowed!

After searching PS, I found a diamond I decided to post about. It was a J color, well cut diamond in my price range, but I was concerned about the color set in white gold. I got many posts assuring me a well cut J color diamond would face up beautifully in white gold. And, again, a post from Lesley at
White Flash
. She didn''t comment on the diamond. She posted pics of what I''d described as the setting I was looking for.

The vendor of the diamond I posted recognized it and sent me an email. Did I want the diamond held for 24 hours? While probably not meant that way, it struck me like a used car salesman in a plaid jacket. Not a good impression.

Lesley''s pictures had intrigued me. So, I emailed her through Price Scope. She emailed me back. Just a cordial response thanking me for contacting her and letting me know I could call her any time. So, I called
White Flash
and talked to Lesley. Lesley was very warm and friendly. We talked about
White Flash
as a company, Lesley''s accent, kids and school, and finally diamonds. Lesley directed me to one
ACA
that was without question out of my price range. Lesley suggested a couple diamonds within my price point and that I check out their website to see what interested me. No high pressure sales pitch, just a "call me with questions when you''re ready" kind of approach.

I checked Price Scope and Diamond Talk forum threads for comments about
White Flash
. I found the Cupid story on Diamond Talk and read through it. I looked at the
White Flash
ACA
listings on the net and settled on 2 in my price range to choose between. I called Lesley back to discuss those 2 diamonds and she put me directly through to
Brian Gavin
. WOW. I was actually talking to THE CUTTER. Brian and I talked for about an hour. He pulled both diamonds out and discussed them with me on the phone. I decided on one, an H SI1, and then Brian did something totally unexpected. He asked me to preview another diamond, a J VS2, as well. Brian said it was a very high J color, nearly I, and very white. He said he wanted me to experiment and totally enjoy the diamond buying experience. So,
White Flash
shipped me both diamonds to preview.

Boy was that a tough decision!

One sparkled, subtle smaller flashes of color and white light almost constantly. The other had more random, yet BOLD flashes of color and white light. What to do? Which one to pick? My daughters loved them both and wanted to keep both. Sadly, I had to choose. Bright light. Low light. Candlelight. Set in white gold hoop earrings to simulate a pendant look. But which one? Finally, I set them like stud earrings against white gold and diamond earring jackets. The H appeared only slightly "whiter" in the body than the J. I let that be the acid test and settled on the H.

A Cut Above H SI1, AGS Id/Id/Id, 55% Table, 60.5% Depth, 34.6 deg crown, 40.8 deg pavilion, 0.7% to 1.3% girdle, 0.8% cutlet.
I shipped both diamonds back and tracked the package to be sure they got delivered. When tracking showed delivery confirmation, I called
White Flash
to be sure the package made it in tact and every thing was OK. Lesley was out of the office, so Judy put me through to Brian. There had been a problem with the package. Evidently it got smashed into a shelf or something and had a hole in the side. OH NO!

Brian assured me the diamonds were fine due to great packing and he had already sent my diamond to the goldsmith to custom make the necklace and pendant for me.

I got email last night from Lisa in shipping at
White Flash
that my necklace had been shipped. When I picked up the package today, I couldn''t wait. I opened the boxes in the Fed Ex parking lot.

I was very impressed that
White Flash
had shipped my necklace in a wooden (Cherry??) jewelry box. Very nice touch that further enhanced the building excitement of opening the jewelry box. I gasped and shreaked with glee. It is gorgeous! Much more than I had even hoped for when this whole adventure started.

Great big THANK YOU''S to Lesley, Brian, Judy, Lisa, and the whole
White Flash
team for making my dream not only come true, but even better than I''d hoped for when my quest began!