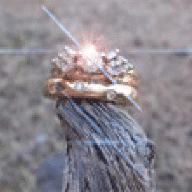 Joined

Mar 2, 2010
Messages

1,226
Ok Pictures First, Novel after:
Sorry for the fuzzy cell phone pictures, I think the lens is dirty as all my pictures are fuzzy...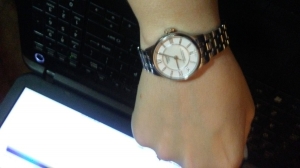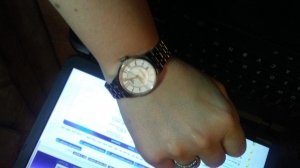 Here's the watch if you want a better picture:
http://us.tissotshop.com/women/tissot-chemin-des-tourelles-lady-powermatic-80-8.html
Well, my watch has been having issues this past week. I had the battery replaced a few months ago because it was loosing time (but only when I wore it

not when it was laying flat unworn. I've tossed around the idea of getting an automatic since hubby got his seiko automatic last year, but I like smaller watches and most automatics are HUGE. I mentioned to my husband that it was loosing time again and didn't think much past that, other than I was going to have to find time to go get the battery replaced (again) or send it to the manufacturer (ugh). Hubby loves watches and looks at them like PSers look at sparklies. He found one that he thought I'd like. Well, we went to dinner tonight and I saw the watches and was intrigued. Went to Jared to try them on, one was too big (30mm) and another was perfect but too much $$
. There was another that I was very interested in, larger than my original but not huge like the 30mm, it was 28mm (yes, I know those 2 pesky mm were driving me batty, just call me princess

). So went to Helzberg. Well, lo an behold, they had one of the two I was looking at online.

It was BRAND NEW, still had all the plastic on it. They had just put it out. It was the bigger of the two (at 32mm

) but it is an automatic 80 hour reserve.

This means I can wear all week, and wear my beater on the weekends....
It is MUCH larger than my old ones, the last Tissot was a 20mm, and this one is 32. Its HUGE by comparison, but it has DIAMONDS and Mother of Pearl face

And I don't have to worry about buying batteries