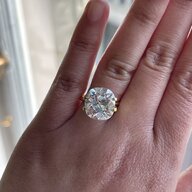 Joined

Nov 8, 2008
Messages

1,286
So-- last Wednesday, we adopted a 10-12 week old Golden Retriever/Newfie mix pup as it was the same week we adopted our beloved Tori 5 years ago. Thursday night, he vomitted, just water. We figured he was just stressed and didn't think much of it. Friday, he vomited bile up and I was deeply concerned about possibly distemper or parvo as he just had one set of vaccinations as the owners didn't give him up till he was about approximately 8 weeks old and the rescue organization gave him his first set of vaccinations and deworming (he was due next week for his 2nd set). Friday, we took him into the Vet.. parvo snap test was inconclusive but wasn't a definite positive. We insisted he start on treatment just in case it is parvo (his fecal test was negative for any other GI bug or parasite). And so we did an injectible antibiotic, flagyl, and cerenia along with 150 ml of LR along with a prescription for oral cerenia, flagyl, and clavamox. He did well, didn't vomit at all and had a healthy appetite.
Come Monday, he had the classic parvo diarrhea and we took him back into the vet (he had been on flagyl and clavamox since Friday and Cerenia). And we're hospitalizing him. He was doing great up until today, where he wouldn't even go to greet the vet at the front of his cage and is pretty lethargic.
This is my first instance of dealing with parvo and I was wondering if anyone else had a pup who had parvo and if they could give me any sort of idea of what we're in for.
He's currently getting IV flagyl, Unasyn, and LR with KCL. He's stopped eating and they are having to syringe feed him now. From what I know (back when I was a pre-vet major) that his survival rate is pretty decent since we started treatment before he was very symptomatic and lethargic.
Can anyone chime in?
We have kept him separate from our other dogs from the get-go and only have let him out on puppy pads on a sectioned off portion of the patio. We do foster frequently and know to quarantine new dogs for 2 weeks.
Please, if I could have some
PS dust
for Gambit I'd greatly appreciate it. Especially after losing 2 senior dogs earlier this year to congenital heart complications.
(He has some hair loss around his eyes, negative for sarcoptic mange and demodex, but we're treating it anyways like it is demodex as it is bilateral and symmetrical. He does have some scabs and scars on his face-- the original owners other dogs were attacking him before they gave him up to rescue).