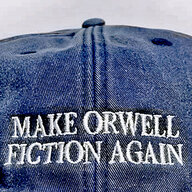 Joined

Apr 30, 2005
Messages

30,342
Moderna, Pfizer, and JJ have patents on the best-preforming vaccines.
How nice for America.
But what about non-Americans?
Some non-American vaccines being administered are reported to have a 50% success rate, not 90%.
What say you? ... America and my stock portfolio first, or earthlings first?
In this case even if America reaches herd immunity (doubtful thanks to you know who) what good is it if zillions of non-Americans become C-19 factories, and virus variant factories, and die en masse, while keeping this nightmare never ending?
NPR news, audio, and podcasts. Coverage of breaking stories, national and world news, politics, business, science, technology, and extended coverage of major national and world events.
www.npr.org
Last edited: