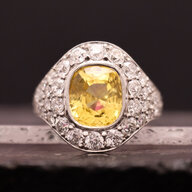 Joined

Jul 23, 2012
Messages

18,981
I accidentally bought a sapphire earlier this year.
I say accidentally because I found her on eBay and bid 1/4th the asking price like a jerk but they accepted my bid, so, what's a girl to do.
she was modest sided but beautiful 6.9mm in a setting that was as ugly as it was small

about size 3- weird.
Now for what I paid I didn't mind but oh man was it unattractive. I had to figure out how to set something so small in a way I'd be happy to wear, something I didn't have, and something inexpensive. Gold of course has skyrocketed so- that last bit was tricky.
In my eBay searching I'd discovered this band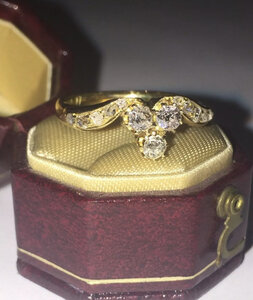 Neat but also- idea!
I ordered this from Australia and it took a bit over a month to get it. I turned right around to dk and sent him the two rings to combine together. It took him less time to do it and get it back to me than it did to ship from Australia!
I had him copy the baskets of the diamond for the sapphire and just plunk it on there. I think the result is fab
Last edited: