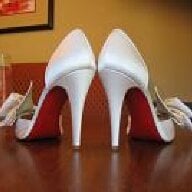 Joined

Nov 13, 2007
Messages

5,720
Well, I just got done at my 2ND dress fitting and I''ve calmed down a bit.
I was the FIRST appt of the day, but when we arrived they (the SA and the seamstress) went to the back to get/find my dress. I couldn''t figure out why it wouldn''t have been in the fitting room already. After 15 minutes of searching and whispers from the back, they emerge with my dress, "here it is!" they announced.
I go to put it on and the thing is hanging off of me. I then look at the side seam to look for new stitching and we could still see the holes from where she had pins from my last fitting!!! Absolutely NOTHING has been done to it!!!

My mom then looks to see if she even added the hook''n''eye to the train so the bustle can be done... Nothing! Her response, "well, this is only your first fitting." WTF? I''m sorry I wasn''t aware I HAD to have 2?
Then the owner comes in and has the nerve to tell me that I should watch how much weight I''m losing! Listen witch, I''ve GAINED 4 lbs since my last fitting!
We went to the front where my mom complained and they replied, "but we aren''t charging you for the 2nd fitting."
I flew home for this!!!