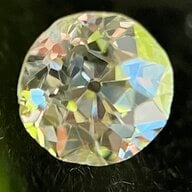 Joined

Dec 16, 2007
Messages

24,269
OK, some people have said they would like me to make a thread with my thoughts on buying old cuts.
I was hikacking someone else's thread in the interest of trying to explain something to TGal, and instead of doing that I thought I would start this thread.
I am by NO means trying to suggest I am any type of real expert on old cuts. I am not trying to suggest I know anything more than any of the other old cut lovers here on PS. I simply want to share some of my own observations and things I have learned buying old cut diamonds on ebay.
I will likely just copy some of my posts from other threads here, or update this from time to time. I am not really interested in approaching this systematically. That seems too much like work
And frankly, I post on PS to avoid work.
So, in no particular order, here are some thoughts. Feel free to ask questions if you like, or add your own two cents, but perhaps if someone wants to open debate about a particular issue they can start another thread so that this one is easy to read for those people who specifically were interested in my ideas. However off base they may be