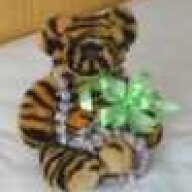 Joined

Feb 22, 2003
Messages

16
Dear Garry Holloway:

I just bought a diamond engagement ring for my fiancee, and I think it is very beautiful -- brilliant, and full of fire and scintillation. But because I am not an expert at looking at hundreds of diamonds, it's possible that I just don't know what a truly beautiful diamond looks like. Could you tell me whether my diamond (an AGS Ideal 0 Cut grade) has measurements that you think would qualify it as a beautiful diamond? I thank you so very much for your very informative website, and for your help on this. You provide a great service!

Here's the AGSL DQD info for my diamond:

Round Brilliant
Measurements: 7.49 - 7.55 x 4.53 mm H color VS1 clarity 1.550 carats
Flourescence: Inert

Polish: Ideal
Symmetry: Ideal
Proportions: Ideal

Table: 57 %
Total Depth: 60.2 % Crown Height: 14.9 % Pavilion Depth: 42.7 %
Crown Angle: 34.7 degrees
Pavilion Angle: 40.7 degrees
Girdle: Faceted 0.7 - 1.5 %
Culet: Pointed

Is my diamond as beautiful as I think it is Garry? Thank you for your help!