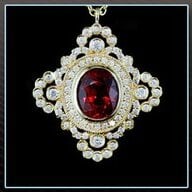 Joined

May 29, 2008
Messages

164
Dear P.S.ers,
Recently, I was looking longingly at some Asschers online and noticed as they were spinning that I kept seeing weird flaws... only when I paused the spinning did I realize that I could see "GIA" followed by the report number. It was the laser inscription! My eyesight is generally terrible so I was surprised to be able to see it, even though I realize the diamond is being photographed under magnification.
This got me wondering: does the "hall of mirrors" in an Asscher reflect the laser inscription in a way that a round brilliant would not? And if yes, should one try to avoid an Asscher that is laser inscribed?
Also, what magnification is being shown on sites like
BlueNile
,
Adiamor
,
JamesAllen
- is that 10x magnification or 20x or ??? Trying to get a sense of what would be visible or not... I am attaching a screenshot - hope it shows up well.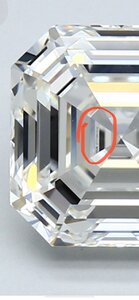 Thanks!