Joined

Feb 2, 2019
Messages

5
So I have posted in another thread about my actual engagement ring, but I have another project now. Long story short: I'm just looking for a blue or purple stone that looks good in a split prong setting.
Basically, my fiancé's aunt bought this ring for him to give to whoever he marries, and it's not too cute. So much metal. I talked to a jeweler and they said they can cut out the head of the setting and put in a normal four prong head, which is great.
But I want to take the diamond out and put it into a hexagon setting (like Satomi Kawakita's) and use it as a backup to my other ring, since my other ring is... not small.
My plan is then to use the band from this ring to make a new ring for my mother in law as a present. She doesn't know anything about jewelry, but I have seen her wearing spinels and tourmalines (from the mall). It's a little important that I use the metal from this band because my fiance's aunt passed away from cancer and I think it will be senimental to her to keep as much of the original setting as possible. I asked her what color stones she likes and she said purple, or maybe blue. My budget is maybe $500-1000.
Does anyone have any recs for purple or violet or blue stones? I think any garnets, amethysts, spinels, sapphires, or tanzanites might work but I am open to any ideas! Not sure about cut/shape either! Or maybe I can make it a three stone ring and cut out the split prongs altogether.
(also don't know if I want it to look like my other ring because I don't want my actual mother to feel left out lol but maybe I just have to get her some bling too!)
Anyway here is the setting that I am working with: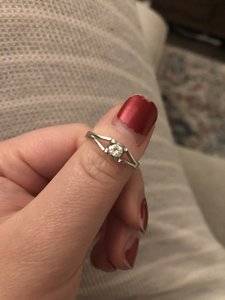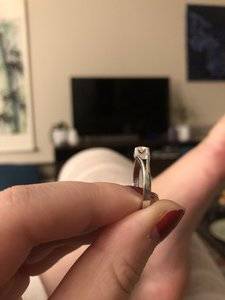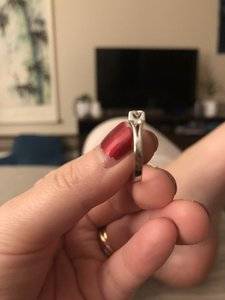 Thank you for your help!