Joined

Feb 1, 2020
Messages

2
I got engaged about a year and a half ago, and we recently got married. I am having some trouble shaking some concerns about my diamond. When I first got the ring, I didn't notice any problems with it - it took me MONTHS of watching its performance in different lights before realizing something might not be quite right. I am concerned my diamond has a nailhead effect. Obviously, this is not something I understood existed when I selected it. I love my engagement ring and I always will - I don't know if I could even bear to exchange it for a new one - but I want to get some opinions on whether I was taken advantage of.
Does a well-cut diamond ever appear like this in certain lights? The pic with the purpley nails I took in the car right after getting it steamed at the jewelry store, and I think the diamond looks great there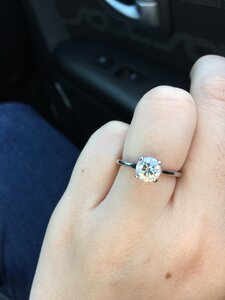 so you can see how different it looks.