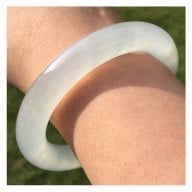 Joined

May 1, 2009
Messages

2,856
Those who have collected CS for a while, do you find that you tend to only buy certain colors or tones e.g. cooler colors like blues and greens vs warmer colors like pink, red, yellow? Or do you like all colors or consciously try to have all the different colors? Or has your buying preference changed/evolved with time?

In my very short time with CS, I realize that I gravitate towards cooler colors and so my collection currently consist of turquoise, blue, green and purple stones. Nothing in the warm range (yet). Wondering if that's normal.

I can totally understand why I choose those colors as it pretty much matches up with my usual wardrobe.