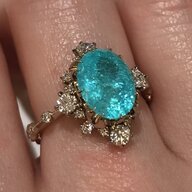 Joined

Aug 25, 2014
Messages

578
Hello everyone!

It has been a long time coming, but I finally have a new project about to start.

I purchased a Paraiba oval some years ago and never got it set. This stone is finally finding its forever home!

My problem is... I don't know which finger to size it for (first world problems much?)

I worry that as I get older and my fingers go up in size with life changes that I won't be able to wear it which would be a shame!! I know, I could always resize. However, the design of this ring is such that I would not trust anyone other than the jeweller crafting it to resize, which makes things difficult as said jeweller is overseas. The setting itself is going to cost me... a lot. So I would like to get it right and not worry about resizing in the near future.

So! Are most of your (non e-rings) sized for your ring finger too? Your right hand ring finger? The middle finger?! Index?!

My left and right ring fingers are the same size (4.5) but my middle finger is a little bigger at 5.5... and the index probably 5.75. I'm trying to decide between 5.5 and 4.5...

This will be an occasional wear ring.

I own another ring (a band) by this jeweller already in a size 5.25. Although it has crossed my mind that perhaps I would want to stack the rings, I do worry things might get a little tight on my chubby 5.5 finger, especially with the size of this stone (10x7) and the design of the setting for this ring and the existing band!!

For those who have seen my old ring stacks, there is 'negative space' galore!! But even with all that negative space, my fingers are rather short and stubby and I'm not sure I could pull off a 10x7 stone and a band!