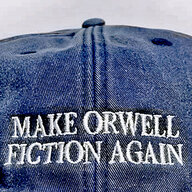 Joined

Apr 30, 2005
Messages

28,862
I think Orangie will lose, obfuscate his refusal to leave by claiming election shenanigans ... saying, "I didn't really lose because of X, Y, and Z."
Our orange infantile narcissist in chief will bask in the only thing that matters to him, massive domestic and international attention.
Nutjob orangite Murkans will go on the warpath for him.
Considerable civil defense chaos will ensue.
Eventually he'll be removed (didn't Nancy Pelosi say she'd have the White House fumigated?

) and the shamed republican party will be humiliated and lick its wounds for years.
Millions of defeated orangites will look for their next goon to make America great again.
Last edited: