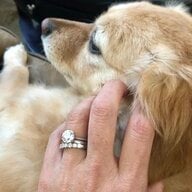 Joined

Mar 13, 2004
Messages

4,402
I'm just curious whether family members ,friends or coworkers have asked to try on your jewelry? If so, whom have you allowed to try your jewelry?

I have a hiking friend who always wants to try my rings on after we sit for breakfast after a hike, almost weekly….you know how
hard it is to get my rings off when my fingers are swollen after a hike? I have since told her husband, it is time for him to get an anniversary ring of a significant size so she would stop asking to try on my rings (she always does it in front of her husband as a big hint).

My SIL who lives in Europe visits the US about once a year, and every time she comes, she asks to try on my rings because she doesn't see people wearing diamonds if a significant size in Europe….even though she lives in an affluent part of Switzerland. I let her indulge and try on my rings, it is only once a year.