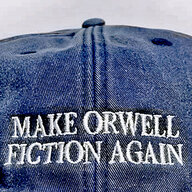 Joined

Apr 30, 2005
Messages

28,496
I haven't eaten sugar for around a decade, but recently I've had a huge craving chocolate ice cream.
Ice cream that's the real thing ... high-fat, fancy stuff with like only 4 or so natural ingredients on the label, cream, milk, eggs sugar, chocolate this or that - preferably, my home made ice cream.
I made it once almost 2 years ago, when I was courting my SO.

Maybe I crave this because of something about being cooped up in the house.

Do you every crave something you never let yourself have?
Last edited: