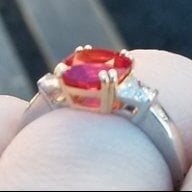 Joined

Nov 3, 2009
Messages

7,588
Well, Gary Braun put his sapphire on sale and I bought it. I am a weak woman and can not resist the allure of a dark-blue sapphire.
I did not take many pictures, because that was not my goal. It has some extinction but it does not turn inky at night. It is heated and the prestige report from AGL says, "Additional: clarity enhancement:none".
My question is, in view of this report, to I need to check the stone with GIA for specific Be-treatment or would this report do? This is my first (well, almost first) heated sapphire and I like the color and want to keep it but do not want to make the mistake...
It is 3.54 ct. Elongated, but a decent match to an unheated sapphire from Gary so I think I can make a set from them, a pendant and a ring.
Thank you