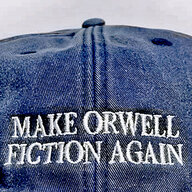 Joined

Apr 30, 2005
Messages

29,668
Once I thought about smashing all my FCDs, one by one, with a sledge hammer and posting a close up high res slo-mo video of it on youtube and PS.
No, I didn't and wouldn't do it.
Sometimes I just think some nutso thoughts.
As a kid I often dreamed I was flying.
Many times, awake, wanted to jump off our roof to see if I could fly.
It was so easy and effortless in my dreams.
No, I didn't do that either.
Have any insane, nutso, naughty thoughts have ever come into
your
head?
I'll keep your secret, so DO tell!
Last edited: