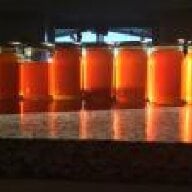 Joined

Apr 15, 2015
Messages

272
I apologize in advance for any typos, I'm having some vision problems lately.

This might be long winded.

Quick background, When I went to college I adopted a kitten from the shelter. Several years later she was killed in a terrible accident while she was with a pet sitter. I was pregnant so I couldn't get another cat, and since my husband is not a cat person, almost 15 years went by without a cat. I finally convinced him to let us get a semi-feral to help with the vermin problem in the yard. Turns out, she isn't feral at all, she was just horribly mistreated and dumped. She won't go outside. Which is fine. And she's very sweet, but also solitary and we only see her for a few minutes a day. I told my husband I forgot how much I loved cats and I wished that she was more affectionate. So he got me a kitten. He was about 16 weeks when we brought him home. I was careful about introducing them slowly and so on. We've had him about 3 months and he's out in the house full time now. The shelter cat only comes out at night, and the new cat sleeps in my room with the door shut, so they only see each other for about an hour in the morning before the shelter cat slinks off to wherever she hides all day.

During this hour together the shelter cat hisses and growls at the new cat if he comes too close. He's very friendly and wants to play with her, but she wants nothing to do with him. They can be in the same room as long as the new cat ignores her. The last few days I have noticed that if the new cat is minding his own business and ignoring the shelter cat, the shelter cat runs at him and then when the new cat sees her, she hisses and runs away. I can't figure out if she's trying to play and is just really bad at it (she never plays, she hides, eats, and allows us to pet her a couples of times a week), or if she's trying to assert dominance? Or am I thinking too much like a dog owner? They don't swipe at each other, it's all verbal. I've also noticed that since we got the new cat, the shelter cat comes out to see us a lot more often, so that's a good thing, right?

We run feliway diffusers in several parts of the house, too, and have for some time since the shelter cat always seems so nervous. The poor dear has some very suspicious scars on her neck, and was just skin and bones and almost no hair when we got her. She's much healthier looking and seems very happy. Just solitary. Neither cat seems unhappy, but I was hoping they would be friends.



TL;DR My old adopted cat is charging and hissing at our 7 month old cat. Will they ever get along?