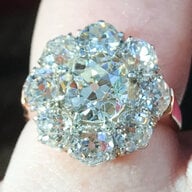 Joined

Nov 17, 2013
Messages

2,560
I am sad to be posting this, but I went out to three well-respected Pricescope-approved American vendors (hand-forging jewelers, actually) for quotes on a platinum ruby eternity band. I ended up going with the one who gave me the highest price because he assured me he would use "top of the line burma pigeon blood red rubies". That is a direct quote. It's exactly what I wanted. They would complement my L color diamond beautifully.
Please take a look at this ring that I received (the craftsmanship is superb) and tell me if you think these are the pigeon blood red rubies I was promised, or, rather, borderline pink sapphires. I think they are dark pink sapphires, which are cheaper and very definitely not what I wanted.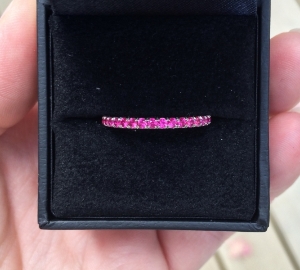 So...I expressed my disappointment to this well-respected vendor. He said they were, indeed, "blood rubies", but that he was interested in what color I was looking for. I searched for "burma pigeon blood ruby" on Google Images and got a ton of red rubies, NONE of which were pink like these. I picked one and sent him the picture. He said he would send me a sample of rubies closer to the color I wanted, and that I should wait to receive a sample and then send back this ring. I waited. And waited. It has been several weeks.
I wrote to him and told him that I don't like how long this is taking, and that I want to return the ring, which is not what I ordered, for a refund. He said this ring is what I ordered (that these are pigeon blood red rubies) and that he will not grant a refund and will send me a sample when he gets the new sample stones he ordered.
So...do you think these are pigeon blood red rubies?