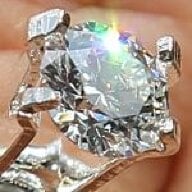 Joined

Apr 25, 2014
Messages

7,863
This is a quick post as it came to mind just now but I'm supposed to be writing a job application...
lol
I was just wondering - is there a 'best' cut in terms of 'directionality' (or lack of it)?
To put that into English

I am thinking about the angle of tilt at which different cuts 'stop working' and start windowing (for example).
For example, 'classic' ovals seem to often be windowing on the far side in the videos once they near 90 degrees of tilt/rotation (or even much lower angles of rotation) but some asschers seem to work well at all angles in the videos (bar 'side on', obviously).
Is there a trade-off between having an excellent play of light head-on but then a somewhat leaky stone once tilted?
Or can cuts be designed to balance (or even maximise) 'off-axis' performance at the expense of head-on performance?
Is it simply a limitation tied to the pavilion angles and how they will become see-through as they approach being perpendicular to the angle of viewing?
I recall reading a Instagram post from Yoram a while ago, or it might have been his website, where he said that his antique cuts are optimised to work well 'off-axis'.
Anyway, as I say - this is a quick and dirty brain-dump post - any input would be appreciated!