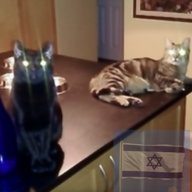 Joined

Jun 8, 2008
Messages

41,913
Awww, this story is heartwarming and brought happy tears to my eyes. Hope you enjoy it too.
https://www.youtube.com/watch?v=8IGfhrhaTVc
http://www.independent.co.uk/news/world/americas/meet-dindim-the-penguin-who-returns-to-his-human-soulmate-every-year-a6917621.html
Published on Mar 15, 2016
Here is the true story of Dindim, the rescued penguin from Ilha Grande, Brazil, that returns every year to his rescuer according to biologist Joao Paulo Krajewski. He presented the story about the penguin Dindim for the segment Domingão Aventurain of Globo TV, Brazil. The heartwarming story went viral on social media and internet all over the world. He said that several news agencies and websites have published versions of the story that were filled many misconceptions and misinformations.

Dindim is a Magellanic penguin that was rescued in May 2011 by Mr João Pereira de Souza, in Provetá Beach, Ilha Grande, Rio de Janeiro State. The penguin was covered in oil and could barely move. Mr. Joao cleaned and fed the penguin for days until he was strong enough to be released in the sea. Joao then took the penguin in a boat to a nearby island and released the animal. Later that day, Joao heard squeaking in his backyard at Provetá beach. Much to his surprise, he saw the penguin had returned and was calling out for him. Dindim took up temporary residence in Pereira de Souza's backyard until February 2012. One day in February, Dindim simply disappeared. It is unknown where Dindim had ventured off to. Months later in June, Joao heard a loud squeak coming from his backyard and Dindim was there, waiting for him. The two were reunited again. This has been going on every year since then. The penguin returns in late June and stays until mid-February.

Some of the articles stated that "penguin travels 5,000 miles every year to see his rescuer" and even show a map showing the supposed annual migration route of Dindim. Krajewski says the truth is that they don't know where Dimdim goes the rest of the year, but the biologist says it's extremely unlikely that he travels to Patagonia, which is thousands of miles away. "This is because Dindim stays in Ilha Grande at the same time all other Magellanic penguins are breeding in Patagonia and other islands down South," said Krajewski.
"When these penguins finish breeding and moulting, they migrate and spend months feeding in the sea." He also mentioned that he have never said that local authorities allowed Mr Joao to "keep the penguin because of his kindness". "First of all, the penguin is completely free. It sleeps in Mr. Joao's backyard, which is connected to the beach and only partially fenced, since Joao is concerned about street dogs attacking the penguin," said Krajewski.

"Judging by the first photos taken when the penguin was rescued and by an evaluation by local biologists, Dindim is reaching the sexual maturity now. He is estimated to be about 6 years old." He also mentioned that Dindim is a male. "We know that because we took a few measurements of his bill and the sex was later confirmed by a group of professionals from Ubatuba's Aquarium that took a blood sample and tagged Dindim for research, " said Krajewski.

He said that João, Dindim's rescuer, is not a fisherman and that he is a retired bricklayer. He have not made any comment about religion, miracles and things like these. "I don't think the fact Dindim was found by Mr Joao was a divine intervention. Many penguins are found sick in the coast of Brazil, and finding and taking care of one is pure chance. If anything created this event, it was the terrible habit of humans to trash the environment, which causes many animals to get covered in oil or swallow trash, " said Krajewski.

He interpreted this story as Dindim was rescued, fed and stayed with Mr. Joao for the entire part of the year while the species usually stay in the beach and breed along the coast of Patagonia, it imprinted on Dindim that Ilha Grande is home instead. "When all the Magellanic penguins are going to Patagonia, Dindim goes to Ilha Grande and recognises Mr. Joao. Penguins are usually very loyal to their partner. They may live for over 25 years and usually mate with the same individual in the same nest every year. This site and partner fidelity certainly facilitated the development of the relationship between Dindim and Mr. Joao. The relationship was created by the accident suffered by Dindim and by Joao having rescued him."

"The only statement in English I have was passed indirectly to a news agency from the UK, and is this: Magellanic penguins are usually very loyal to their partner. They live for more than 25 years and usually the same couple nests in the same hole every summer in Patagonia. The penguin Dindim certainly displays this same loyalty by changing the usual nesting site of the species by the place where it was rescued and fed in Brazil. His rescuer, Mr João, is now like family for him. Professionals who work with animal rescues make the most to avoid relationships like this so they are able to reintroduce the animal into the wild. But this isolated case in Brazil certainly allowed Dindim to live and was the best this humble and kind man could do for the penguin."