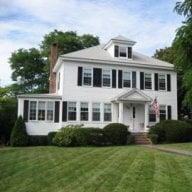 Joined

Nov 19, 2006
Messages

1,286
To the LIW:
I am not on the LIW list, but my bf and I (dating for ~4 years) have been sort of talking about engagement/marriage/rings lately. Due to my taste in rings (hence my nickname, Rockzilla) as well as the fact that I am kind of young (23) it will be a while before any proposals will take place. But, over the past months I''ve been adjusting more and more to the idea of being engaged and married to this wonderful guy
Hopefully, I have not been influenced too much by PS.
Anyways, last night around 3am I woke up with a horrible sick feeling in my stomach. My mind was just going..."Are you serious about this getting married thing?? This is the rest of your life!! You are crazy!" I haven''t ever really felt this way before. I love my guy more than anything but this really freaked me out.
Has this ever happened to anyone else? Is it normal to have "doubts" (I don''t even know if that is what I''d call it) from time to time? Or is is the equivalent of a bad dream? Maybe I am just nervous that things are getting more serious?
Please help, ladies!
RZ