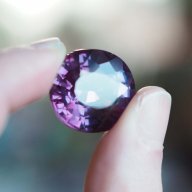 Joined

Jul 9, 2017
Messages

1
Hello everybody!
I'm new to this forum, so I hope I posted this in the right place!
Anyway, my question:
I bought this 15ct lab-grown gem off eBay for US$19.99. It was advertised as a colour changing diaspore, and it certainly changes colour in an impressive way. In direct sunlight it can show flashes of cherry red, under lamp light it's gold and in fluorescent light it's quite a good green.
Sunlight:
View media item 122283
Warm white LED lamp:
View media item 122285
Daylight LED lamp (edited to show the real colour -- the camera didn't capture it properly):
View media item 122284
But other than its colour-changing properties, it seems exactly like a corundum. The way the light plays off it and the feel are exactly like lab-grown sapphires and rubies, of which I have quite a collection.
So what have I got here? Is diaspore just superficially similar to corundum or is the stone a (mesmerising) phoney? I've never had the pleasure of handling a confirmed diaspore before, so any info would be very much appreciated.