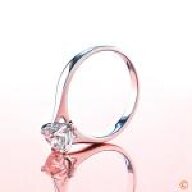 Joined

Aug 25, 2011
Messages

55
I'm considering an outdoor proposal during winter, though I'm still learning about how different lighting conditions affect a diamond...
Say it's night time during Winter. With all the snow around and city lights, what kind of light do you get out of a diamond? Is it too dark? Will the low level of light reflecting from the snow not be enough for it to shine? Will the reflections along with spot lighting from nearby outdoor lights create fire?
If I were to propose during a walk or ice skating (outdoors), I don't want the stone to look like a dud because there isn't enough light. Has anyone paid particular attention to how diamonds behave outside at night/sunset? I'm not a fan of a ring box with a light in it - my personal opinion is that it seems tacky. It's a solitaire 0.5ct
BGD
signature diamond, if that matters at all. This won't be a deciding factor in how I propose, but it could impact where I stand or something (ie near a lightpost or far away) and I'd like to get a general idea if there is anything I can do to add a little extra life to it at night. Thanks!
(Yes, I know she will be wearing gloves, but I don't expect we'd stay in the cold too long after the proposal anyway. And any extra Winter proposal tips are of course warmly welcomed!)