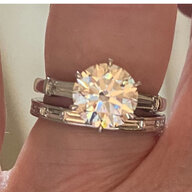 Joined

Mar 31, 2018
Messages

5,948
I'm starting a thread on Diamondrensu to compare experiences. I ordered my first ring from him for my 93 year old mother. The setting was top notch..I was very surprised because it was somewhat complicated..The color is not quite white but it still looks good to her. After seeing it I should have ordered my asscher earrings in colorless. I ordered the white which should be ghi at the most. I went back and forth with him when I wanted colorless with my princess earrings. He finally said they would be f/g..I can take that but would have really liked totally colorless. I ordered the asscher earrings on November 8 and I still haven't received them. I tried to be polite and told him it was okay it was a little delayed. I think that gave him a license to put everyone else before me. I also ordered princess cut earrings after the asscher earrings that I told him I definitely needed by Christmas. He said he could do it..no problem..I haven't received them either. I just emailed him to say I was disappointed that he hasn't shipped them yet..that he needs to now send them through the usps as I have a hold placed on my mail until the 27 and usps will deliver them when I get back if he ever does ship them when I'm gone. I'm incredibly frustrated and would cancel the order if I could but I can't at this point. He never said he was sorry. I told him to send me a photo of each set of earrings before he ships them because I belong to a board that would like to see them before they order from him. That was a little passive aggressive on my part to make sure they aren't going to be rushed now and I'll wind up with something not up to par. He has been incredibly sweet before this but not sure that's his marketing strategy at this
point. His reviews have been saying shipping was extremely fast and delivered in three days..and mine has been pushed to the side..
If anyone has had an experience with him it would be great to see photos. I'll post my mom's first...Those are my mom's nails holding the box..I don't have any...

..I'll post the photos of my earrings when I get them..