@HollyC

I've see her beautiful necklace but it looks like it's fixed on? What I meant was slipping on the pendant to wear... removable and not fixed on.

Sorry for the crap pics as the lighting is pretty bad but here are 2 examples:

I've also seen for normal tennis necklaces depending on the design a small hook or removable ring device to loop/hang pendants on. Like this type:

Welcome back to Instagram. Sign in to check out what your friends, family & interests have been capturing & sharing around the world.

www.instagram.com

—————-

Thanks

@lulu_ma @missy

!
Your pendants look beautiful with it. I don't have many pendants and the only one's I thought would fit are my VCA Magic, but no, they wouldn't go over the clasp. I did try it with a removable link but it's not right and looks off. Here is a pic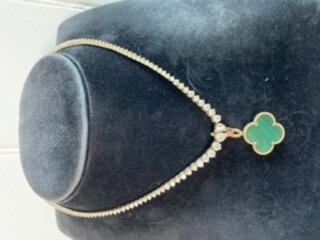 Oops don't know why it's sideways.