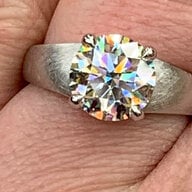 Joined

Feb 13, 2003
Messages

2,917
Today, I went in Antwerp.
That''s 40 miles away from my home...

I found a nice shop, they sells AGS 0 certed ideal cut H&A''s...
I had a look with the viewer, and they H&A''s were just perfect...
The angles were in the sweet zone (pav 40.5-40.8, crown 34.3-34.9)...
No depth above 61.4%...
All the diamonds had fluorescence=none !
And... their price is... rapaport - 22% !!!
So, in the future, don''t pay to much !