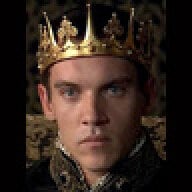 Joined

Jan 21, 2008
Messages

6,186
That would be me.

I'd just like to know if you all have any thoughts about possible designs for diamond rings for men. Anything you like, have, have seen, that kind of thing.
I'm interested in what would be available, and what would be available to have custom made, and the size limitation of the stone per the design (mainly in terms of the height of the diamond, I'm thinking).
I'd like something minimalist, but not the kind of ring that holds the diamond like prongs (if you know what I'm referring to- tension setting, that's what it's called- I don't want a tension setting).
I'm just looking for ideas at this point. I have money saved and I'm saving money all the time.

I'm buying an 18kt band ring, so this would be for my right hand (which finger, who knows

).
I noticed that
Whiteflash
has a very complicated scattered diamond ring for men. That's not to my taste, but I like the regular scattered diamond band rings, but I'm not sure if men could wear them, but I like the price, but I'm not sure if .02 cts would give enough rainbow (sparkle?) effect to hold my interest, but I like the fact that these bands are flush.
I'm sorry for the run on sentence! Diamonds and jewelry have always been a hobby of mine, but no more so than now, but wearing a diamond ring would being going out a limb fashion wise for me, personally, because I don't wear jewelry (at the present time, I've sold my JLC and I won't wear my Casio, and I won't wear my Rolex- I don't like to have them on, but I think at least one ring will be OK (the gold one) and I'd like to have a diamond, or diamonds. I'd like a K VS1 from .33- .6 if I'm being honest.
Soliciting ideas/ links. Any help is appreciated!
Danny