Hi folks. So glad I found this forum. I've been looking around at diamonds and have learned a ton thanks to all the information posted here. I think I've narrowed down some choices based on my requirements. I'm looking for around 2.5 CT, G+, VS1+ EX+ around 40k. I've found the diamonds listed below across several sites.
James Allen
,
Brian Gavin
, Audiamor and a local dealer (last diamond). I saw the last diamond through an ASET scope and it seemed decent. I ran the diamonds through a couple sites to get their feedback as well. Before I make a final decision, I'd like to get some feedback from all the unbiased experts here. I sincerely appreciate all the advice. I tried to put the pictures together so they make sense. I do not have scopes for the last two diamonds. I was told the
Ideal Scope
for the 2.7 was not provided with the diamond. Thank you once again!
Thank you!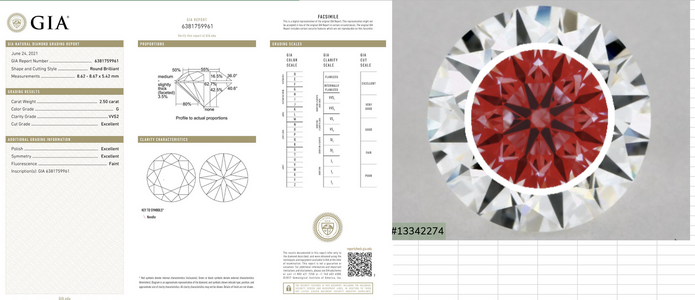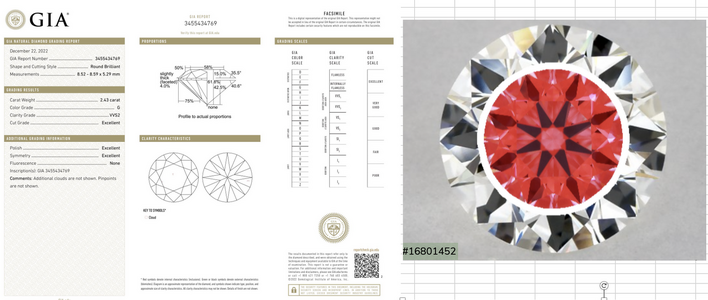 | | | | | | | | | |
| --- | --- | --- | --- | --- | --- | --- | --- | --- |
| Size | GIA | Free Diamond Report | HCA | Stone Algo | Price | Cut | Color | Clarity |
| 2.5​ | 6381759961​ | No | 1.7​ | 9.2​ | 38,200​ | EX | G | VVS2 |
| 2.4​ | 7436443572​ | Ideal | 1.7​ | 9.2​ | 37,250​ | EX | G | VS1 |
| 2.42​ | 6445356661​ | Ideal | 1​ | 9.4​ | 41,526​ | EX | F | VS1 |
| 2.43​ | 3455434769​ | Ideal | 1.4​ | 9.1​ | 40,970​ | EX | G | VVS2 |
| 2.7​ | 6441036054​ | Super Ideal | 0.8​ | 7.5​ | 42,210​ | EX | G | VS1 |
| 2.5​ | 2437826593​ | No | 2.8​ | 5.4​ | 39,800​ | EX | G | VS1 |