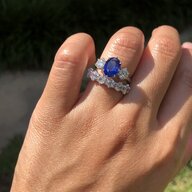 Joined

Feb 16, 2014
Messages

425
Hello, can someone educate me please, I bought something from Denmark that was shipped via DHL. My understanding was that antique jewelry are duty-free. However, I just received a notification saying that my package is being held until I pay the customs duty on it which is 5.5% on top of a DHL charge. (5.5% is what they charge on new jewelry based on my knowledge.) I am in the US,btw.

I messaged the seller asking him why it wasn't declared an antique since antique jewelry is duty-free and that was in the description of what I bought.

Here is the reply " Message:Hello, DHL has no idea about such exampions. They have no section for such codes in customs forms,and they don't have any idea that such codes exist.. You may send them the screenshot of your purchase with detailed description to prove that you bought an antique ring,it may work or not. Anyway,I have no way to control or affect their decisions."

I am honestly just confused at the situation.