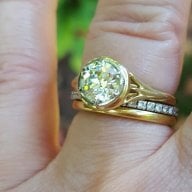 Joined

May 30, 2012
Messages

935
I swore off buying anymore pretties until next year, We are going on a big, month long Italian vacation this fall and I was going to be good and find something beautiful to remember the trip. Well, when I came across an oec, it just would not get out of my head, should I

, no you can't

. Back and forth I went and then woke up one day and knew I had to have it.
It was listed as 1.25 cts, almost 7mm and I VS1. It is on it's way to GIA to be certed. I wanted something similar to a James Meyer but with the shank of an Amethyst ring I saw on DK's site.
Right now the plan is 6 delicate claw prongs in a thin plat bezel. If it was a bigger stone I would have no problem with a full bezel but I am worried it might look smaller. I had a unfortunate experience with a pendant reset and that is still on my mind. The top of the thin bezel will be polished and the side milgrain. The second thin bezel and the shank wil be 18k yg.
The 1st cad does not have the prongs and I've asked DK if the small scrolls on either side of the culet can be angled more so my wedding band can sit, not flush but closer. If that won't work I'll go with a band under the stone with a small doughnut. I don't want my band to be completely hidden under the bezels. Also, the back of the shank will be narrowed to 2mm and then go towards the shoulders to 2.6mm.
I'll attach a photo of prongs with thin bezel. Of course mine will be round and not all the milgrain.
There are still some changes to be made, what do you think? Any suggestions? Does anyone have a white metal bezel with a yellow gold shank?