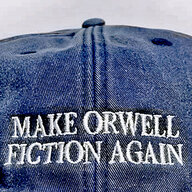 Joined

Apr 30, 2005
Messages

27,763
I try to find good prices on things.
Most floss containers have 55 or 100 yards, and are priced from 3 to 10 bucks.
When finished you have to throw away or recycle every plastic container.
That's not so green.
I found refill rolls of 200 yards for only $1.45 from a company that supplies dentists, that will sell to the public if you register and use a credit card.
Since shipping wasn't free I bought 15 rolls, for the same shipping cost as one roll.
This should last for years.
They also have waxed, and mint for a bit more $$$.
Discounted Premium Nylon Office Spool Refill, Unwaxed, Fits Std Office Dispensers, 200 yds. Get dental supplies. Manufacturer: Quala, Manufacturing Code: Q48059, Categories: Floss Refills
www.supplyclinic.com
Then from the same vendor I added a $3.89 plastic dispenser that you buy only once, and refill when empty.
Greener.

Discounted Floss Dispenser for Professional Size 200 yd. Refill - Beige. Get dental supplies. Manufacturer: Plasdent, Manufacturing Code: 207FSD, Categories: Floss Dispensers
www.supplyclinic.com
Last edited: