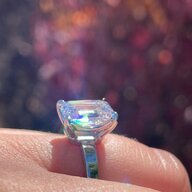 Joined

Apr 9, 2016
Messages

491
This is really hard and we've all been there, because most of us unfortunately don't have unlimited bling budgets. Both stones require a certain degree of compromise.

With the natural stone, you get the natural diamond that you prefer, but it is definitely tinted and it is going to appear tinted, sometimes more than others.

With the lab stone, you get a bigger size, icy white D color, and it sounds like a pretty significant cost savings. But it is lab stone.

So the question is which compromise are you willing to live with? Over time, is the tint going to bother you more or is the origin of the lab stone going to bother you more? Since this is an upgrade, you really need to try and think about how you are going to feel about this stone in the long run, as it kind of sucks go through an upgrade and then end up going through another upgrade if you get it wrong the first time around.

My personal opinion is probably neither helpful nor relevant, so please take it with a huge grain of salt, but weighing in a little further since you asked. I had a 4ct H color EC that looked white at home, but once I took it to work I realized it looked tinted in my office lighting, and that bothered me a lot. I ended up selling it at a loss and then buying a 3ct F color EC (I got one with strong fluorescence so I was able to get a pretty good price). So I'm definitely biased towards the whiter stones, although the K above looks lovely. Based on the pictures above, I prefer the look of the lab diamond (the color, size, cut, proportions, everything look great based on that picture - it looks like a celeb engagement ring rock). But if it were me, I might also consider getting a smaller, whiter, natural diamond, especially since you are doing a three stone setting. The three stone setting will give you great finger coverage, and I've seen so many examples of stunning three stone rings that have smaller center ECs (and by smaller I just mean smaller than 3ct, which is a good size!!).

Anyway, I know how tough this is. Good luck with the decision!! Try your hardest not to rush too much, you gotta love the stone you end up with.