Joined

Oct 25, 2020
Messages

3
My Dh is going to buy me an emerald and diamond platinum ring for our 10 year anniversary. I have wanted a rig like this for a long time, and wanted an emerald for my engagement ring, but, he went with diamonds. I am deciding between two rings I saw on eBay. The first is a Steven kirsch setting, though I read on another post that the emerald isn't original to the ring and is meh. I am also concerned it might be too large for daily wear on my right hand. It is 18mm north to south.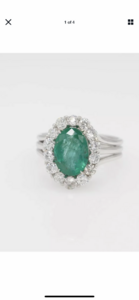 The other ring is an Art Deco ring and may be a bit more interesting, it is 14mm north to south which is a better daily wear size.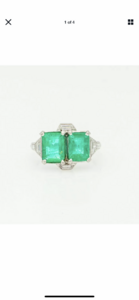 I think I like the first better, but I am concerned it's too large and flashy. Any input welcome!!