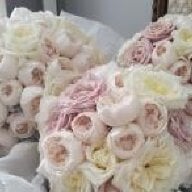 Joined

Jun 7, 2016
Messages

188
I've gone back and forth whether this is something worth doing. The setting I chose for my ER is a recreation of a ring I originally saw with a cushion, however; my diamond is round. I didn't realize or consider that the prongs on the original setting for the cushion definitely accentuated the corners. Not realizing this, I didn't ask for the prong tips to change when recreating the setting to better suit a round diamond, I feel they make my round stone boxy and square.
So, once I was proposed to, it really was the first thing I noticed, and didn't love. I got used to it, but in the back of my mind I found the prong tips overwhelmed my diamond. Anyway, even though I got fairly used to it, everyone who winds up seeing my ring asks if it's a square diamond. This added to my distaste a lot, so I finally just emailed my jeweler and asked what options I had. For a very little expense they can extend the prongs and create a more pointed/claw like tip.
Here is a photo of the ORIGINAL cushion setting that I found inspiration from, MY ring, and my more preferred prong goal. I think this really highlights what I'm feeling about my stone, and how I feel a smaller tip would really help bring out the roundness more. I know many suggest 6 prongs, I do understand the claw tips still do show more square, but I find that aesthetically pleasing

I guess I'm just writing because I want to ensure I see what I see, and if anyone else understands.