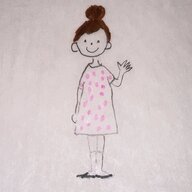 Joined

Feb 2, 2016
Messages

7,318
I bought my first Amora Gem a little bit ago, it is a 6.5mm H&A Eternity, I've been really really happy with it, to the point that I wear it almost exclusively while my diamonds sit in my jewelry box.

Well now I've found a 7.4mm Amora Gem Eternity and I'm debating whether to go up in size. When I bought the 6.5mm it was pre-loved and a little smaller than my ideal but it was already set and figured it would be a good way to try Amora. I know people like bigger stones in general but I'm the opposite 8mm is way too big for me but I haven't had a stone around 7.5 and am thinking that could be the sweet spot.

Some posts I've read say the double refraction becomes more obvious the bigger you go but would that be an issue for a 7.4mm? I read somewhere that someone bought an Amora upgraded to a larger size and was not as happy with the upgrade because the original stone looked a little bit better so that is another concern.