Joined

May 4, 2019
Messages

3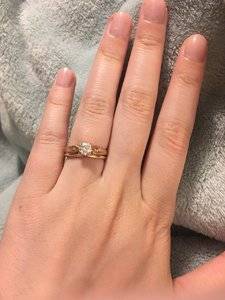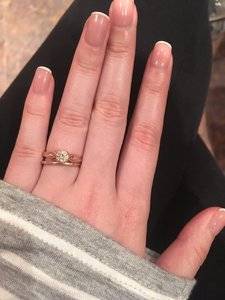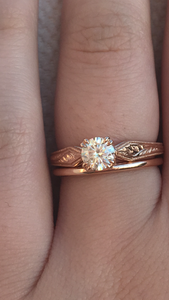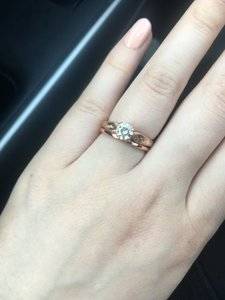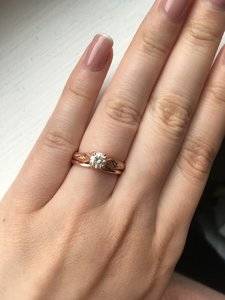 Hi everyone!
I am looking for advice concerning my moissanite engagement ring. I got engaged in 2016 with a moissanite ring. I chose moissanite with my now husband for ethical reasons and it was a bonus that I preferred the glitter of moissanites over diamonds. My ring came from Brilliant Earth and we chose a "premium" near-colorless 5.0 mm moissanite.
Long story short, the setting we chose from BE wasn't a good design (one prong held the end of two side stone) and within a short period of time, the side stones became loose.
Last year I got my moissanite reset in a new setting with a local jeweler. I am so pleased with the way the setting came out, it is truly my dream ring.
Now, I am questioning if I want to replace the moissanite. I got the near-colorless moissanite thinking it would best suit the rose gold setting that it was in (and still is in the new setting). From what I have gathered from BE, my stone is equivalent to a Charles and Colvard Forever Brilliant which means it is a 6H moissanite as opposed to the 4H like a Forever One. Not until recently have a noticed perhaps the slightest hint of yellow-ness in the stone, I think it is because I now follow various moissanite sellers on social media/ am on the moissanite subreddit and have been exposed to people's pictures of newer moissanite. In certain light it looks blue or even a soft green. It sort of breaks my heart a bit that I am doubting my moissanite now as it was the original stone I got engaged with (also in light of having to replace the setting). What do you all think of my issue of sentimentality of my moissanite over the potential lower quality of the stone? Has anyone else been a similar situation? Am I being silly? When I first had it I really loved the way the stone looked. My stone is a smaller one so I think the yellow is quite subtle overall but I can't help but feel a bit bummed out that it might be more yellow-green than truly near-colorless. I posted some pics of my ring in different lighting.
Thank you for your advice and suggestions!