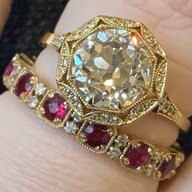 Joined

Sep 14, 2017
Messages

18
I've been meaning to post my engagement ring for ages but decided to wait until I had my wedding band...both by CvB. (More hand shots later, after the wedding. I was only able to snap a few photos before my beloved insisted I put the wedding band away.)
Diamond is an OEC, Q/R color., ~3.5 ct. Casablanca setting is 18 kt YG with a stylized honeybee in the gallery. Lovely buttery/lemony yellow color, and very fiery.
I worked with Caysie to customize the Casablanca. Long story, but the bee is sort of a personal emblem for me. (And on my first date with my soon-to-be-wife, we went to a little art gallery and I bought 3 tiny little paintings of honeybees dressed up in fancy Edwardian finery.)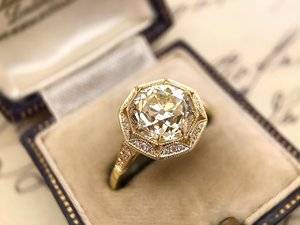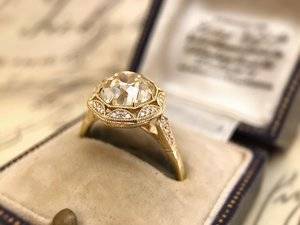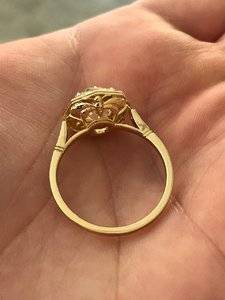 This diamond has ridiculous, David-Bowie level kozibe which unfortunately makes it a challenge to photograph. Very prismatic and shoots colorful fiery lasers. Sometimes I'll be in a meeting at work and realize my ring is casting a several-foot wide disco ball on the ceiling!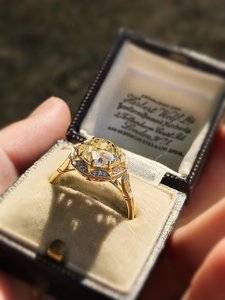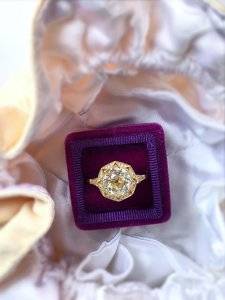 Wedding band is also 18 kt YG. Inspired by the lovely Exeter band, but done in ruby and single-cut diamonds. I wish thing band photographed half as beautifully as it looks in person.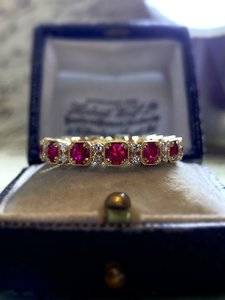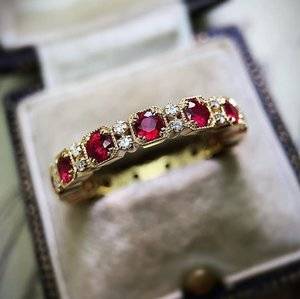 And the combination of the 2 rings together is simply stunning.