Hi all, I have the stone and have turned to David Klass to design the setting and mount the stone. This is the first CAD he sent me, so far it looks good! Just a few minor(?) modifications but wondering what a more experienced person could point out in case I missed anything. The stone is a
ACA
1 carat from
WF
and H color/SI1 "eye clean" clarity. Mr. Klass found some G color and VS2 side stones. Would the fact that the side stones are better in clarity/color affect the way the center stone looks? Thanks!
First, I probably want the prongs to be smaller/daintier. I'd want to remove the prongs in the middle of the side trillion diamonds. The prongs were there originally when it was the three individual small ones. This would open up the gallery of the side stones since the shoulder of the ring would be further from the center stone (the white area boxed by red).
My main concern is the angulation of the side stones. They seem more acute/angled than the inspiration ring. I would try to want it to be flatter with the center stone and shift the prongs closest to the center stone prong to be more parallel (right now the center stone prong is slightly curved). I tried to show this by drawing the 2 red lines. This would make the furthest prongs to be higher and to make it look less awkward, would that mean making the shoulder higher as well (the red marked on the shoulder) or is there another way?
To make the setting of the 3 stones flatter, would I need to use smaller side trillion stones? I realize that it may be because she has a small ring size (size 4), but I don't have a problem with that as long as the proportion and angulation looks good.
Thanks all in advance for your insight!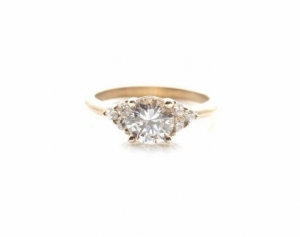 Ring setting inspiration (but with trillion side diamonds and not individual small ones)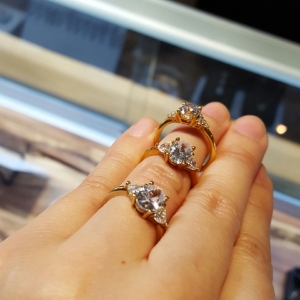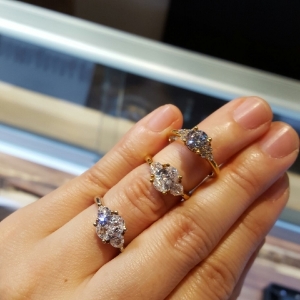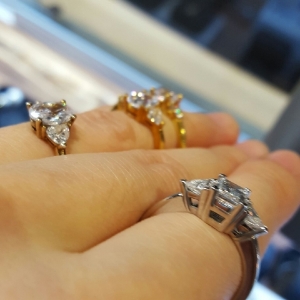 This is the 1st CAD drawing Mr. Klass sent: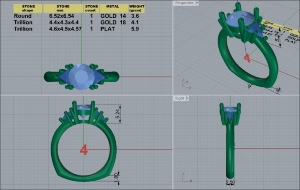 This is the modifications that I think will make it more similar to the inspiration ring