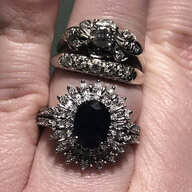 Joined

Nov 15, 2020
Messages

13
So first I have to thank Pricescope for their
article
about what to spend on engagement rings, especially right now in a pandemic I think it's so important that people really consider
value
over status symbol! You inspired me to post this thread. (If you haven't read it, it's a great one.)
I'm the American and jewelry aficionado between my partner and I, he's from India so he's the gold guy but doesn't know anything about American engagement traditions/rings or gemstones so basically we saw designing a custom engagement ring together as a relationship building exercise to blend our cultures. I get the sapphire and diamond ring I always dreamed of, he gets the traditional Vanki shape, and we settled on congac and white diamond accents as the color blend between us, in rose gold because it works well with both our skin tones. This has been going on for about a year trying on different size rings and metal colors to try and get a feel for what it would eventually be like. Between Covid killing my job as a professor and him becoming sole provider, money is tight. We got the design for free from an online retailer but weren't comfortable with that format for such a big purchase, the free Cad came from a custom jewelry event at a local retailer where they bring in designers in hopes of landing the build (usually they do the design but because we had it already they agreed to do the Cad) and I got the center 1.42ct lavender Ceylon sapphire from a local jewelry store I've worked with a ton on other projects with my mom (material science engineer and dedicated jewelry addict lol) for $500.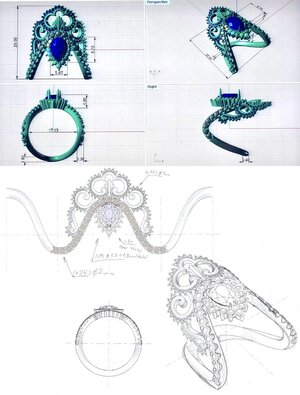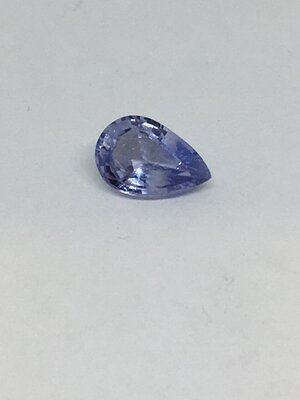 Quotes we got for having this ring made were all between $4000-$12,000 (the higher was majorly trying to take advantage of the "custom" fees and the lowest wanted to use synthetic diamonds) we've been pretty stressed because while it's the perfect dream ring for us, it just isn't feasible right now and we want to be married in Oct. 2023 (for astrology dates to align per his culture) with a decent length engagement before hand so we have time to get everything and save up for the ceremony.
So this past weekend, I see the mall in my town is closing and Macy's has 60% off signs plastered so I go check out the sales. I stumble into the jewelry section texting my mom if she wants anything not thinking anything of it and find this ring.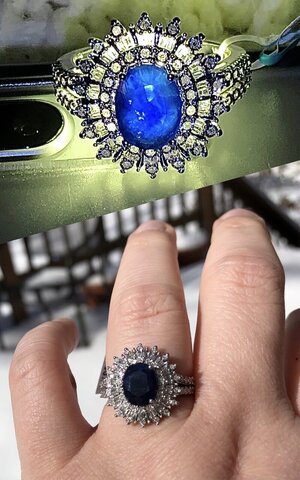 Effy 2ct sapphire, 1/4ctw diamonds in 14kt white gold (SO prefers higher kt but I prefer stable prongs! Lol). Original price, $3000, store closing clearance price $1250, they had rotating additional clearance % off until 2pm and because I found the ring at 1:45pm the price came down to $720 + tax. Steal of the century, since I had been texting my mom she said it was too flashy to which I said "for you, not for me lol" and called the SO to see if he minded me buying my own engagement ring, he loved the price as long as I was happy with the style so it became mine.
Fast forward to today we're having innocent wake up cuddles when he pulls the ring out and officially asks me to marry him. While this process was unconventional and not what my teenage heart dreamed of with surprises and big romantic gestures, it was so practical, real and feels like a proper responsible adult decision.
Totally worth it, because guess what?
THIS RING HAS THE EXACT NUMBER OF WHITE DIAMONDS NEEDED FOR THE CUSTOM RING!!!
(18 are square but I'm thinking that they can just be arranged in the "crown" to give differing shape)
Like not only did we spend less than $800 for this ring but also I can reuse the diamonds for the custom ring when dust has settled from the pandemic and we're more stable financially after the wedding (thinking 5 ish years from now maybe) and an extra 2ct sapphire and the white gold for an anniversary pendant or something we can do for our moms (split the gold and sapphire for them to feel more connected idk haven't thought that far yet lol)
The place we were going to build with who did the Cad was going to charge us $2400 for diamonds alone; still need the cognacs but now I've sourced the white diamonds and gotten my engagement ring in time for a longer engagement and get the thrill of a great deal on a beautiful ring I'm ecstatic to call mine with a SO who is so much less stressed about not only the money but also the pressure of finding something we both like.
Ultimately my advice, if you're looking for engagement rings, find out how much the standard traditions mean to you as a couple, which ones are you willing to break to do the process together (marriage is about cooperation and compromise after all), design your big beautiful custom ring that can become a sometime goal and then shop jewelry clearance sales to find something you can reuse in the eventually plan! It's been so rewarding to find something we can afford and love and bring into our marriage.
Poll is for anyone interested/knowledgeable!
Last edited: